This page is the WARD Message Board 2007 where any visitor can submit information to find other people trying to trace their WARD connections

NOTE:- We will ONLY add items connected with the surname WARD

Spam protection:-

All email addresses on this site have had the @ sign replaced with "at" to prevent spiders crawling for email addresses and sending you spam.

If you send us an email to ward4ever"at"hotmail.com remember to replace the "at" with the correct @ and the same applies when answering message board items.

REMINDER : If you change your email address AFTER your posting is listed, let me know.

This way people can make contact regards any family link.

WARD's from Preston, Lancashire
Hi , I am Trevor Wayne WARD of Perth, Western Australia searching for family in England .
From :- John WARD and wife Margaret, Preston, Lancashire
1891 Census
Source info - RG12/3431
Vessel 15, Folio 87, Page 42
Registration District - Preston Sub. Reg. District - Trinity
72 Queen Street, Preston
John WARD - born Preston abt 1862 - Head -
Magaret WARD - born Birkenhead abt 1862 - Wife
Peter WARD - born Preston abt 1883 - son
Mary E WARD - born Preston abt 1885 - Daughter
Edward WARD - born Preston abt 1889 - son (my grandfather)
Rose WARD - born Preston abt 1891 - Daughter
Peter and Edward migrated to Australia very early 1900's but Peter returned to England via WW1,
Aust military Forces (I have his military records).
He stayed back in England and married Beatrice Kate Ward .
Any assistance greatly appreciated.
Thanks, Trevor. tward2"at"bigpond.net.au 02/12/2007 REF 035-2127

WARD's from Leicester
Looking for family of Edith Annie Ward who married Sydney Wale in 1913 in Leicester.
They had a son named Sydney.
Carol homelinkca"at"yahoo.ca 01/12/2007 REF 034-1127

WARD's from Rotherham
I am looking for a Lydia Ward born 1822 in Rotherham, Yorkshire, UK.
She married Henry Millington who lived in Sheffield and was a butcher.
Her Father was Joseph Ward.
Thanks, Barry bmgen"at"shaw.ca 16/9/2007 REF 033-1697

WARD's from Panxworth & Lingwood, Norfolk
Hi, my name is Connie Peters and I am looking for my fathers side of the family.
I am most interested in any Ward's from the Panxworth & Lingwood areas in Norfolk.
Any information would be very much appreciated.
Connie, boss62"at"ihug.co.nz 16/9/2007 REF 032-1697

WARD's from Tyrone, Ireland
Hi, my name is Diane Ward, and I'm researching my great-great-grandfather's family.
Here is all I know:
James Ward born abt 1865 Tyrone, Ireland
James was a Recruiting Sergeant in the Royal Marines Light Infantry.
(James was on HMS Britannia, Dartmouth Harbour in 1891 Census)
Married Hettie Hodgess in Plympton, Devon on 16 May 1888
They had 8 children:
Hettie Margaret, born 1888 Sampford Spiney, Devon
Annie Catherine H, born 1890, Dartmouth
Aileen Winifred, born 1891, Dartmouth
Elsie Lilian, born 1893, Stoke Damerel
Florence Christina B, born 1895, East Stonehouse
Francis James V, born 1897, East Stonehouse
Charles Hector John, born 11 Feb 1900, South Leith
Percival Cecil Gordon, born 19 Jun 1905, Scullcoates.
Percival is my great grandfather, he died on 11 Feb 1947.
I'd love to know if anyone is related to the other children, as I have no other information on them.
Fantastic website, hope someone can help!
Dianne TenaciousDi83"at"aol.com 16/9/2007 REF 031-1697

WARD's from Sheffield
I'm looking for anything appertaining to Broomhead Ward (not the one born 10 Jan 1843 who died 15 Jan 1888 in Pitsmore Workhouse).
My one was born 27 Aug 1827 (son of John and Sarah Newham), in Sheffield, resident in Carver St in 1838, resident in Button Lane 1841, resident 100 Backfields in 1851.
He married Mary Foster 16 May 1853, All Saints, Rotherham.
They had son Thomas 5 Aug 1856, 116 Backfields, Ecclesall Bierlow, Sheffield.
The last time this chap is known of is 1871 @ 125 Broad Lane, Sheffield, a widowed gas fitter.
I can't find his death nor anything else about him (I've stood for hours looking at the indexes).
He was my gt gt grandfather.
Any help gratefully appreciated by all his descendants.
Thanks, Sheila sheilamarcel"at"smbeer.fsnet.co.uk 16/9/2007 REF 030-1697

WARD's from Brooklyn, NY, USA
Hello all. I'm looking for info on my grandfather, Francis Ward, who was born about 1894 in Brooklyn NY.
He died between 1924 and 1927.
My dad, John Francis Ward was only about 4-6 yrs old and never knew him really.
Dad thought that he might have been wounded in WW I because he had a vague memory of visiting him in a VA hospital.
My Dad died in 1990 and I've no one left to ask.
Thanks for any help possible.
Janet in New Jersey. jamyrs"at"aol.com 16/9/2007 REF 029-1697

WARD's from Middlesbrough and Wales
Hi, my name is kimberleigh Waller-Heathcott my daughters is Cassie-rose Hernandez.
Her father is Andrew Thomas William WARD born April 1981
We have since split up and I'm trying to do a family tree for my daughter so she knows who her family is.
Now all I know about his part of the family tree is, he has aunts called Janet Joanne and Jenny YOUNG.
I believe he gets his name from his grandfather and his mother never married.
I also think his grandmother was called Flo? and his grandfather William.
I know he had a few aunts and uncles with the surname Ward but I can't remember there names!
He is from Middlesbrough and from what I can figure out his family moved from Wales at the turn of the last century but beyond that I'm stuck and help would be a great help
Thank you, kim. kym.heathcott"at"hotmail.com 11/8/2007 REF 028-1187

WARD's from Mitchem, Surrey to AUSTRALIA
Thank you for an interesting and informative website.
I have an Alfred WARD born 5 Jan 1833 in England (don't know where).
His father's name was John WARD and he was a gardener.
Alfred's parents came from Mitcham, Surrey, ENGLAND, and arrived in Western Australia aboard the barque 'Mary' in 1852.
If anyone out there can assist with any further information I would be most grateful.

Kind regards, Chris Channan5051"at"bigpond.com 11/8/2007 REF 027-1187


WARD's from Kent
Is anyone looking for Ward family in NW Kent in England
Halstead, Chelsfield, Cudham, Knockholt area - 1750 and before.
Would be interested also in anyone researching Ward who went to USA
Rosemary Ward rosemary"at"rbaldock1.wanadoo.co.uk 16/7/2007 REF 026-1677

WARD's from Newark.
I am researching the WARD family who settled in Newark, Nottinghamshire from Leicestershire,
and who eventually moved to Riddings, Alfreton, Derbyshire.

The 1891 UK census index lists the family as follows:
Stephen Ward Age 40, Place Riddings, Piece RG12/2749, Folio 70, Page 12, Schedule 80
Sarah Ward Age 38, Place Riddings (nee LOWE)
Edith Ward Age 12, Place Riddings
Gertrude Ward Age 10, Place Riddings
Rosa Ward Age 8, Place Riddings
Roland Ward Age 6, Place Riddings
Harold Ward Age 3, Place Riddings
Elsie Ward Age 1, Place Riddings
Stephen Wardís father was John Ward b.1810 Stockwith, Nottingham, a Carpenter who married
Elizabeth Rhodes b 1823 from Corby, Northants.
Stephen & Roland reoccur as first born sonís names for several generations
The photo shows the wedding of Rosa Ward to Edward ENGLAND in 1912.
All the family listed in the 1891 Census are on the picture.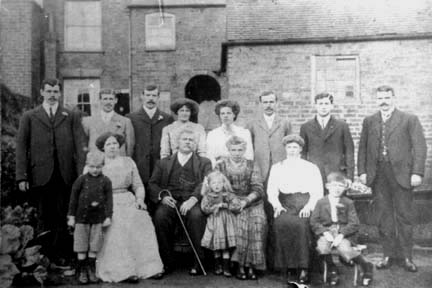 Alison Ward catz2701"at"yahoo.co.uk 03/7/2007 REF 025-377

WARD's from Doncaster
Looking for info on this WARD family from the 1841 Census, in Doncaster, Frenchgate Westside.
William Ward 40 Innkeeper
Mary 40
Sarah 15
Mary 15
Elizabeth 15
Eliza 10
Anne 6
William 3
John Ward ward4ever"at"hotmail.com 03/7/2007 REF 025-377


WARD's from Barbados
I stumbled across your website and wanted to ask how one could trace one's roots further back than 1630.
My Grandfather has traced our ancestry back to 1630 when the first Ward landed in Barbados, West Indies.
I now have a complete set of my ancestors who were based in the island from that date.
But I cannot go back any further with Barbados records because 1630 is roughly when the island was first colonised by the English.
My ancestors originally came from either England or possibly Ireland.
How can I trace the records in the UK?
Mike Ward mikeward44"at"btinternet.com 03/7/2007 REF 025-377

Ward's from Guestwick, Norfolk
I hope you will allow me to seek the help of my WARD family?
My Grandfather's sister married a WARD, I believe.
I know nothing of him.
The only info I have is her name -- Elizabeth Pearce (or Pearce-Bacon)
born Guestwick , Norfolk 1868 but brought up in an orphanage from the age of 3 in Bristol.
She trained as a District Nurse and we believe worked in Hessle, near Hull.
Any info will be gratefully received.
Muriel Armstrong alanearm"at"ukonline.co.uk 25/5/2007 REF 024-2557

Ward's from Kirkburton, West Yorkshire
My name is Andrew Ward and hail from Holmfirth originally.
I am able to find out quite a way back on my mothers side .... however my dad is Different, I have very little or no information other than this.
My father James Leslie Ward b,23-12-1926 was born in Kirkburton,West Yorkshire .
His Father being James Christopher Ward and Mother Emily (nee Jay).
I also know that he had 5 brothers and sisters Joan, Doris Mary, Lionel Edward, Frederick Arthur and Anne.
I believe that the family left Yorkshire in 1930 ish and went to Pembroke where James Christopher went on the trawlers there.
The family returned to Huddersfield after the war in about 1946-7 but I know very little else...
If anyone any information on this wing of the clan, then brilliant and I look forward to hearing from you.
Andrew, andyward"at"blueyonder.co.uk 25/5/2007 REF 023-2557

Ward's from Lewisham, Knockholt, Kent
Can any body help
I am trying to trace the family of Martha Lillian Ward my g/mother B Dec 1887 Plaidstow Essex.
Her father is either Benjamin or Bennett Ward, b1862 New X Lewisham Kent.
Mother Emily, late Holmes, formerly Smith b1861-2 Bromley London.
Martha spent her childhood at the St Mary Village Homes Surrey, entered 1893 when she was 6 and was discharged 1901.
The next sighting was in 1909 when she had my mother Lillian Violet at Brixton London.
The father Herbert Terry, they didn't marry.
There is a link with the Wards at Lewisham and Knockholt
Shirley Epps, ken.epps"at"ntlworld.com 25/5/2007 REF 022-2557

Ward's from London
Hi there
I am helping a friend who is trying to trace his mother and her family.
His name is now George Wrightson but he was born John Ward on 7th June 1930 at Plaistow Maternity Hospital in London.
His mother's name was Gladys Ward.
He was adopted the following year by the Wrightson family when he became George Wrightson.
George knows that his mother was quite young when she had him and herself was the youngest of her family. The family lived in Acton but came from "up north".
George thinks they may have gone back to the North of England after his birth.
Can anyone please help?
Many thanks, Joyce Shaw joyce"at"shaw77.wanadoo.co.uk 25/5/2007 REF 021-2557

Ward's from Lambe in Tadcaster
My wife's family is Ward and we have traced her heritage back to 1815. Dec 8 1815 to be exact.
Then a Thomas Ward married a Jane Lambe in Tadcaster.
The children they have are as follows :
James Ward June 01, 1816
Ann Ward June 09, 1818
Mary Ward October 25, 1820
Elizabeth Ward December 02, 1828
John Ward August 31, 1831
Hannah Ward October 22, 1833
Alice Ward September 13, 1835
My wife line runs from James Ward June 01, 1816 to Bishop Ward November 30, 1844 to James Alfred Ward December 07, 1879 to James Henry Ward September 12, 1909. I am looking for information on any of the relatives of Thomas Ward, information on Thomas or his wife desperately wanting to know parentage of Thomas and/or Jane.
I would like to know if anyone has any information on this family from the Yorkshire 1841 census?
e-mail me, Chris with any information at cdunn000"at"sympatico.ca 16/3/2007 REF 020-1637

Ward's from Delaware & Maryland USA
I am a Ward from the North Carolina outer banks (East coast), USA.
I go back to Wellington Ward (Aug. 15, 1820 - June 18, 1891), who sired John William Ward (April 25, 1850 - Feb. /16/1919) who sired Otho Cartwright Ward (May 24, 1878 - Jan. 1, 1958) who sired Charlie Lester Ward (March 11, 1913 - April 22, 1999) who sired me, Jack Marcellous Ward (Dec. 4, 1939 - Present).
I am looking for relations going back farther in the USA and in England.
Please answer any email with "Ward Relations" in the subject line.
Would like to converse with any Ward that may be related, especially looking for Wards from Delaware and Maryland, USA around the mid 1860's that may be close relatives.
Look forward to extending my family.
The Ward name appears on the Honor Role of the conquest of Hastings, England of 1066.
Any comments will be greatly appreciated.
J. Marcellous Ward surfmanjax"at"myway.com 16/3/2007 REF 019-1637

Ward's from Hornby, North Yorkshire
My name is Kevin John Ward, sorry didnít find your first name(s) on the web site to address you more personally.
Please find attached photos of my grandfather John William Ward [1902-1954] and grandmotherís grave in the little village Church of Hornby, North Yorkshire.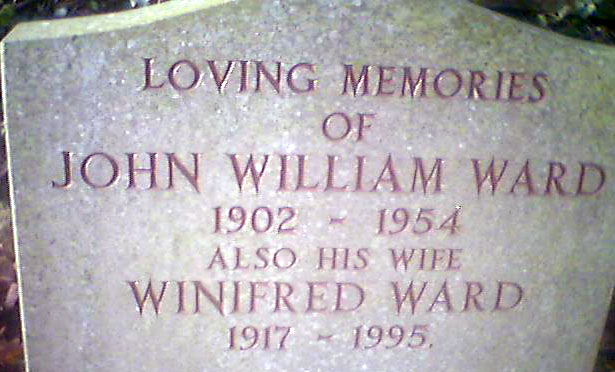 In close proximity there is reportedly the grave of two other babies which died.
My father also called John William Ward was born at Laisingthorne, on 5th May 1940.
Grandfathers first wife (name/surname ?) died of Cancer before 1935 her name is being kept from us by one of the two still living siblings, thatís if they know it, the other two have passed away.
The four issue from the first marriage by order of age descending were: Arthur (who married Gladys Cooper); Albert; Another Brother thought to be living in London ; Jenny (who died last year and was married to Gladys Coopers Brother).
There were seven issue from the second marriage around 1938 to Winifred (nee ?) [1917-1995] by order of age descending were: John William Ward (05/05/1940 to ); Kenneth Ward; Rose Ward; David Ward; Michael Ward; Robert Ward; Bryan Ward.
We donít know if Grandad: John William Ward had any siblings.
It is rumoured that he worked at some time on a farm belonging to a farmer named Jones whose farm was on the back road between Scotton and Askew and also on a farm owned by Major Clutterbuckís Estate near to Hornby.
Any information regarding possibilities of either of his wifeís names, D.O.B.ís Marriage dates and Locations would be appreciated.
Regards,
Kevin John Ward
Eldest Grandson of the Second Union. KJWYork0044"at"Vodafone.net 6/3/2007 REF 018-637

Ward's from Barton-le-Willows, Yorkshire.
I am trying to trace Margaret (nee) Ward who was a teacher with the Royal Air force in the early 60's at Wildenrath Western Germany.
She was born in 1937 ish at Barton-le-Willows in Yorkshire.
I lost touch in 1964 and would dearly love to know what happened to her.
If anyone knows of her or her family please get in touch.
Thank you, Chris.

cpettman"at"blueyonder.co.uk 6/3/2007 REF 017-637

Ward's from Tadcaster
My wife's family is Ward and we have traced her heritage back to 1815. Dec 8 1815 to be exact.
Then a Thomas Ward married a Jane LAMBE in Tadcaster. The children they have are as follows, James Ward June 01, 1816, Ann Ward June 09, 1818, Mary Ward October 25, 1820, Elizabeth Ward December 02, 1828, John Ward August 31, 1831, Hannah Ward October 22, 1833, and Alice Ward September 13, 1835.
My wife line runs from James Ward June 01, 1816 to Bishop Ward November 30, 1844 to James Alfred Ward December 07, 1879 to James Henry Ward September 12, 1909.
I am looking for information on any of the relatives of Thomas Ward, information on Thomas or his wife desperately wanting to know parentage of Thomas and/or Jane.
I would like to know if anyone has any information on this family from the Yorkshire 1841 census?
e-mail me with any information.
Regards, Chris. cdunn000"at"sympatico.ca 6/3/2007 REF 016-637

Ethel Ward & Horace Peel
I am currently researching my mother's family name Ward.
Her name was Ethel Ward b. 1907 in Easington, Yorks, and she married Horace PEEL ( my father ) in 1931.
Her mother was Meggie Ward (Ward) b.1876 in Hutton Lowcross, Guisborough.
Her father was Isaac Ward b.1875 at Moorsholm, Guisborough, Yorks.
Isaac and Meggie Ward were married in 1898. I think they were cousins.
Meggie's parents were Joseph Ward b.1854 in Guisborough and Margaret (PIGG) b.1854 in Hutton Lowcross. They were married in 1873 in Guisborough.
Isaac's parents were John Ward b.?? and Jane (ARMSTRONG) b.1841. They were married in 1869..
I have reached a dead end. Cannot find birth of John Ward although I know from his marriage certificate that he was 26 when he was married in the Parish Church in Skelton, Yorks, and that his father was Isaac.
Can anybody help here and even trace further back.
Thankyou, Gordon gordon"at"peel4811.freeserve.co.uk 19/2/2007 REF 015-1927

Wards from Boston, Ma with Irish connections.
My maiden name was Christine Ward...I am 64
Father Edward, and my two uncles Joseph and Albert born 1915?),
All born in East Boston Ma.
Their mother was Elizabeth.   
Father or grandfather was Joseph Benedict Ward. 
Their father died in the flu epidemic of 1918.
Mother died of pneumonia when my dad was about 16.
They had a paternal aunt who had married a 

Macminiman

?
Joe died in the mid 40s...
Albert and my father were estranged when I was still a small child.
I know Albert had a daughter Elizabeth...
I don't know Elizabeth's mother's name or if Albert ever had other children.
Unable to find Elizabeth...she would be around my age, a couple years younger, perhaps.
I know my uncle is reported to have died in Framingham, Ma. in later  
years but haven't been able to find more information.  
I would like to find my cousin/s.
I believe, but am not sure, that the Ward side of the family was from  
Donegal, Ireland, and the Hamilton lineage from England.
Chris Spaulding chrisspaulding"at"mac.com 28/1/2007 REF 014-2817

Wards of E Midlands
Hi
Well done on creating a Wardy site!
My branch originates from Lincolnshire, Derbyshire and Nottinghamshire.
I have quite a bit of information on WARDS in these areas and if anyone else needs any help on their research.
I am a regular to the Notts & Derby County Records places

Ally WARD catz2701"at"yahoo.co.uk 28/1/2007 REF 013-2817


Michael Ward / Elizabeth Twomey
Hello, I am also searching for that unusual name of Ward (ha) my great grandfather was Michael Ward born in Birmingham around 1833 all we know is that his father was William Ward and Michael travelled to Australia and married Elizabeth TWOMEY in 1862 he had three children, Amy John and Walter Ward.
any leads appreciated.
Regards, Micheline dandmashdown"at"bigpond.com 28/1/2007 REF 012-2817

Florence Jane Ward
Trying to trace information on my grandmother FLORENCE JANE WARD (Died age 81 in approx 1970's) Known to have married ALFRED
WILLIAMS and believe she may have been related to Thomas WARD (Sheffield Scrap / Dismantling Company).
She had 8 children,
Thomas Ernest
Harold
Samuel Redvers
Sydney
Archie & George (Twins)
Charles
And one daughter who died.
Regards, Irene Wilson john.jaws.wilson"at"btinternet.com 1/1/2007 REF 011-117

India, Ralli Brothers in Bombay
Hi, I am trying to find out more about my great-grandfather Thomas Joseph WARD,
who was born in around 1848 (possibly in India), lived in India and worked for Ralli Brothers in Bombay around 1875 to 1920-ish.
He died in England in 1928.
He married Hannah PARTRIDGE in Bombay in 1875 and had nine children
Thomas Lytton Goodfellow WARD
Arthur Easton Stanley WARD
Charles Macnamara WARD
Harold Archibald WARD
Lionel Henry WARD
Annie Franklyn WARD
Ethel Mary Souter WARD
Kathleen Norah WARD, and
Aileen Edith WARD.
His father was also called Thomas Joseph WARD.
However, I do not know where he came from before he went to India, nor do I know his wife's name.

Thank you, Caroline W-S carolinewhate"at"hotmail.com 1/1/2007 REF 010-117


Newark, Notts.
I contacted you a few days ago about a message on your board, unfortunately the e-mail address failed twice.
I would be grateful if you could post the following message for me,

Trying to contact ELSIE BENTLEY who left a message on the 2005 board with regards to Wards and believing they may have come from Newark, Notts.
I descend from Wards from Newark (early 1800's) who were fishmongers originally and one son moved to the Scarborough area via Leicester and back to Newark first!!!.
Think we might be able to help each other and hope this message gets to you

Elaine Stephens bothfeet40"at"yahoo.co.uk 1/1/2007 REF 009-117


Caughley Porcelain Works
Hi, could you please add this to your message board? Thanks.
I am looking for a connection between the HINTON side of my family, and Thomas TURNER who was one of the founders of the Caughley Porcelain Works - family legend says the connection exists but I can't find it.
It may come via my paternal grandmother's family, which I have traced back to a marriage between
Matthew WARD and Anne TURNER in 1821 in Wellington, Shropshire.
Matthew was the son of Mary and Thomas WARD and was born in Lilleshall in 1794. Ring any bells?
Regards, Pauline Barratt beaverbubble"at"xtra.co.nz 1/1/2007 REF 008-117

Birmingham UK, Australia.
Hello Webmaster, could you please put this posting on your website.
I am currently doing my mothers family tree and would like any information on a Harry WARD or his name might be William who married an Ethel Mary KENDALL.
They were both born in England but came to Australia at sometime.
They had 4 children :
Amy Violet (born in Birmingham)
Florence Ellen
Cecelia (bub) Harriet
Harry Kendall Ward.
Any information would be grateful, thank you for a great site.
Tracy Wallis, colsyd"at"westnet.com.au 1/1/2007 REF 007-117

Barnet, St Albans, Hertfordshire.
Hi, I am searching for my natural mother, Winifred WARD.
I was born in Barnet in Hertfordshire, 27 Oct 1948.
My birth was registered at Barnet, Hertfordshire.
I was christened Christopher Robin Ward.
Later adopted, becoming Christopher Robin

ECCLES.
Winifred Ward was living in St Albans, Hertfordshire at the time of my birth.
If you are able to help in any way whatsoever, please email me.
Regards, Chris chris"at"kbodance.com 1/1/2007 REF 006-117

Australia.
I have found your site and I am trying to find the wards that lived in Australia.
They moved to South Australia at some time in their life, I believe.
I am trying to find information on a Jack WARD. (J.J. Ward was his war medals)
He was in the 1st World War, I believe he may have been a light horseman.
He married a Blanche Eliza PASSFIELD (or a name similar)
They had a Daughter Doreen May, don't know of any other siblings, it is highly possible maybe even be one called Joyce.
Joyce is some how related to the family.
Doreen had a child to her first marriage, May Jean RUTHERFORD.
I think it may have been a Carl Rutherford but not sure.
Then Doreen Married again to a Mark BISHOP and had Geraldine Arlene Bishop.
Doreen went by the name Ward, then Rutherford, then Bishop and finally used the name WESTON.
They moved from South Australia to Queensland , but I believe the Bishops to be from NSW, which is where the Wards may have been from Originally.
UPDATE 19/2/2007
To update further on a bit more information that I have found,
Blanche Ward (nee Passfield) was born in 1884 believed to have died in 1975, aged 90yrs
Jack Ward was from Ireland and he was in the 1st world war
They came to Australia.
William Rutherford is the correction that married Doreen (he was from Wudinua) and is It the second Husband Mark Carl Bishop that Dorren Married they have a connection to Brighton South Australia
Arls arls2"at"bigpond.com OR arls2"at"bbsat.com.au 1/1/2007 REF 005-117

Tanworth, Arden, Warwickshire, Solihull.
Hi, I wonder if anyone can help me?
My grandad was Alfred Ward who was born in Tanworth in Arden Warwickshire 16/02/1915 known as Sam
My great granfather was John Ward who lived Tanworth Solihull 1945
He married a Ellen Elizabeth HAWKER Dec 1907
John was buried in Tanworth 29/04/1947 approx 70yrs.
I am told he had a wooden leg from poaching.
Now here's the tricky bit !
I have John`s wedding cert and his Father was named George Ward.
I can't find anything out of George Ward.
It says he was a labourer on John`s wedding cert.
Sam samantha.melly"at"tesco.net 1/1/2007 REF 004-117

Rotherham, Tipton, Staffordshire.
I have hit a brick wall.
I am trying to find information about my GGF, William Henry WARD.
William was born in Masbrough, Rotherham, circa 1837-1839.
His wife Sarah Elizabeth HARRISON was born in Tipton, Staffs, 1835, daughter of Edward Harrison who was born 1841 in Tipton, Staffs and was found in the 1861 census living at Henley Grove, Kimberworth, Sarah Elizabeth being 26 years old, with her brothers & sisters Emma, Samuel, Theodore, Edward, Benjamin, Thomas & Eliza.
Due to my elusive GGF, I employed the services of a company to help find him.
The result being that he could not be found on the 1861 census.
William and Sarah Elizabeth were found on the following census.
1891 census at 25 Midland Road, Kimberworth.
1881 census at 17 Wortley Road, Kimberworth.
1871 census at 9 New Zealand Yard, Bridgegate.
The only William Ward found on the 1861 census, at the right age of 22, is with his wife Hannah, also 22 who is listed as born in Dronfield
This is ref 3503/49B living at Oil Mill Fold.
I am hoping this is my GGF who may have married again.
Does anyone know this William and Hannah, and is there a possible link????????
I think Hannah's maiden name may be WIGLEY.
Regards, John Ward, ward4ever"at"hotmail.com 1/1/2007 REF 003-117

Rotherham.
My research includes Ethel WARD, daughter of Edward Ward & Jane Emily SCOPES.
Ethel was born around 1911? and married Arthur "Johnny" Marsden.
Family sources say they both lived in the Thrybergh area of Rotherham, UK.
Regards, John Ward, ward4ever"at"hotmail.com 1/1/2007 REF 002-117

Rotherham.
My research includes Jim WARD, son of Edward WARD & Jane Emily SCOPES.
Jim was born 1906 and married someone called Alice.
Family sources say that at sometime, Jim lost either one, or both of his legs and lived in the Dinnington area of Rotherham, UK.
Jim signed on for work at Silverwood colliery on July 19th 1922 aged 16
Regards, John Ward, ward4ever"at"hotmail.com 1/1/2007 REF 001-117