Welcome to the WardAndRelateD website
This page is the WARD Message Board 2005 where any visitor can submit information to find other people trying to trace their WARD connections

NOTE:- We will ONLY add items connected with the surname WARD

Spam protection:-

All email addresses on this site have had the @ sign replaced with "at" to prevent spiders crawling for email addresses and sending you spam.

If you send us an email to ward4ever"at"hotmail.com remember to replace the "at" with the correct @ and the same applies when answering message board items.

WARD family from Balsall, Warwickshire
For a long time I have been trying to find descendants of my great-grandparents, Thomas Anstey Ward and his wife Ellen (nee Summers). They lived in Temple Balsall, Warwickshire and had 13 children.
John Thomas b.1876, George Summers b. 1877, Joseph Anstey b.1878, William Henry b.1879, James Garrett b. 1881, Alice Mary b.1882, Joseph William b. 1883, Agnes Mary b. 1884, Arthur Herbert b.1885, Percy Victor b.1887, Francis Howard b.1888 (my grandfather), Walter Harry b.1889, Sidney Harold b.1891.
Would love to hear from anyone related to these people.
Sue Surman

,

subadger

"at"

iinet.net.au

21/9/2005

I am looking for some help and hope you can post this on your website.
My father was born October 27, 1902 to a Mary Ann Ward in Helmsley, York. No father is listed on his birth certificate. He was named Sydney Ward. He had a sister born several years later named Eva (Ward) Coates. All are now deceased.
His mother Mary Ann was married to a Mr. Coates no other information is available. My father came to Canada as a young man did not "get along" with the step father. I understand that there may have been cousins and the name Isacic was me

n

tioned.
Please can anyone help me..
Elsie (Ward) Bentley

bbentley

"at"

airspeedwireless.ca

21/9/2005

My wife's family is Ward and we have traced her heritage back to 1815. Dec 8 1815 to be exact. Then a Thomas Ward married a Jane Lambe in Tadcaster. The children they have are as follows, James Ward June 01, 1816, Ann Ward June 09, 1818, Mary Ward October 25, 1820, Elizabeth Ward December 02, 1828, John Ward August 31, 1831, Hannah Ward October 22, 1833, and Alice Ward September 13, 1835. My wife line runs from James Ward June 01, 1816 to Bishop Ward November 30, 1844 to James Alfred Ward December 07, 1879 to James Henry Ward September 12, 1909. I am looking for information on any of the relatives of Thomas Ward, information on Thomas or his wife desparately wanting to know parentage of Thomas and/or Jane.
Chris, cdunn000"at"sympatico.ca 16/8/2005

Am trying to trace my Wards in Leicester but not having a lot of luck so have followed a James Ward born abt.1832 who is releated to my family. I believe my Wards were originally from Newark in Nottingham and they then moved to Leicester and brothers George born abt.1821 and James lived in Hotel Street Leicester 1851, George was married to Ann and they had a son William who was my gggrandfather. George and James were both fishmongers and James later moved back to Newark before settling in Scarborough by 1871. He was married to Maria from Tugby, Leicester and they had children Sarah, Charles Henry, George Edward, Mary Ann and Alfred.
By 1891 James is widowed and living at 5 Nelsons Place working as a fish dealer. Any help or info would be appreciated and look forward to any messages, happy hunting everyone
Elaine Stephens

,

bothfeet40''at''yahoo.co.uk

16/8/2005

Greetings to all of my WARD cousins!
I too, have run into a genealogical road block. I am trying to find out who the father of WILLIAM MASON WARD was. William was born in 1848, in King's Lynn, Norfolk. In 1872, he married Elizabeth Fanny Filmor in Chatham, Kent. They had 4 children: Percy Mason Ward b.1872 in Redhill, Surrey; Sidney Mason Ward b. 1874 in Redhill Surrey; Archibald Mason Ward b. 1875 in Hackney, London; and William Edgar George Mason Ward b.1877 in Hackney, London. WILLIAM MASON WARD Died Dec.26, 1876. (and may be buried in New Jersey, USA)
WILLIAM'S mother was Charlotte Elizabeth Ward b.1827 in King's Lynn, Norfolk. Charlotte married James Wix in 1858, 10 years after William was born. At that time William was living with his aunt, Harriet Eliza (WARD) MASON, and uncle John Mason.
Charlotte was the daughter of William Ward, b.1789 d.1870, and Pleasance Filby b.1789, d.1841. Both were from the King's Lynn area in Norfolk. William was a farmer.
As you can see, I still don't know who William Mason Ward's father was.
William and Pleasance had the following offspring. All at King's Lynn, Norfolk.
John Filby Ward b.1819 d.1875
m.1839 to Mary Anne Brunton
Harriet Eliza Ward b. 1825 d.1915
Charlotte Elizabeth Ward b. 1827
Any help would be greatly appreciated.
Regards,
Tim Ward

,
tward

"at"

devoncourt.ca

16/8/2005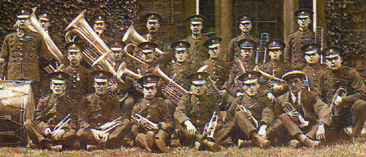 Do you know anyone in this picture of The Silverwood Brass Band ?
Research into my WARD family line has resulted in the above picture.
I believe that the chap, on the front row, 3rd from left, is Jack WARD.
Also, I believe the chap fourth from right, on 2nd row, is Jack's father who was secretary of the band.
My interest is because my WARD family lived on Abell Street, Whinney Hill and there is a possible connection because Jack and his father may have connections with Abell street.
John Ward ward4ever"at"hotmail.com 12/7/2005

Hello, I am trying to find John William Ward born 1954 in Scarborough.
His father was Isaac Ward, mother unknown at this time.
John married Fanny Pottage in Scarborough in 1879 and had 2 children that I know of :-
Beatrice Fann(e)y Ward born 1884 in York & Donald Pottage Ward born 1885 in York.
John married again in 1890 in Stockton to Ann Ebden and had 7 children and had a draper's shop at 6 George Street, York during the 1890's.
The family was living in Leeds at 1901 British Census with John's occupation as Draper traveller with John's birthplace shown as Leeds.
John later became a Baptist Lay Preacher.
Thanks, Marion Knez, marion.m"at"vic.gov.au 17/3/2005

I need some help.
I am trying to locate my half-brother.
I know him only as Andrew, but he may have another name of Radha.
He was born in Dublin, Ireland. His mother's name was Francis and the family had a pub there many years ago. She died a few years ago of cancer (I am not entirely sure).
He may be acting or in that sort of industry. He is half Irish and half Indian. He should be about 30 now.
Anyone out there that knows anything or has any leads, please contact me
radhajn"at"iafrica.com 7/3/2005

Dear Wardandrelated,
This is just to say thank you as I have just received information relating to my Grandfathers brother and family after searching for many years.
I would now like to post the following message.
Wards - Halesowen. 1891 Census. Civil Parish of Hasbury.
HENRY WARD. age 43. Nail Maker.
MARY WARD. age 42. ditto.
ARTHUR WARD. age 14 Iron Work Labourer.
HARRY WARD. age 13.
GEORGE WARD age 12.
WILLIAM WARD. age 9.
JAMES WARD. age 6. My Grandad.
JESSE WARD age 4. My Grandads brother. (FOUND)
ALFRED WARD. age 3.
Would like to hear from anyone who may be related to the above Wards not yet found.
Yours, Grace Carrick. Grace.Carrick"at"btopenworld.com 20/2/2005

I am STUCK!
The facts ... my Grandfather, Charles William Clarry, married a Charlotte Ward in 1908.
She was aged 28 (born 1880?)
According to her Marriage Cert, her father is recorded as being William Ward (deceased), a horse keeper at the pit.
Her death Cert says she diedv in 1921 aged 44 (born 1877?)
The marriage Cert says she was living in Beighton at the time.
Can anyone help me out by directing me towards finding her place of birth and that of her parents, and hence her grand-parents etc.
D. Clarry, d.clarry"at"talk21.com 20/2/2005

Reply about "Titanic Ward" below.
Hi, the picture of Arthur Ward is my Great Grand Uncle.
He was a Junior Fourth Engineer on the Titanic, he lived in Manor House in Ramsey where, my Great Grandfather, Grandmother and Father were born.
Manor House is now sadly an Italian Restaurant.
Cheers, Samuel Ward Vine sam.vine"at"gmail.com 20/2/2005

"TITANIC" Ward
This picture shows a plaque in memory of Albert (BOB) Ward who lost his life in the foundering of the Titanic on April 15th 1912, aged 24 years.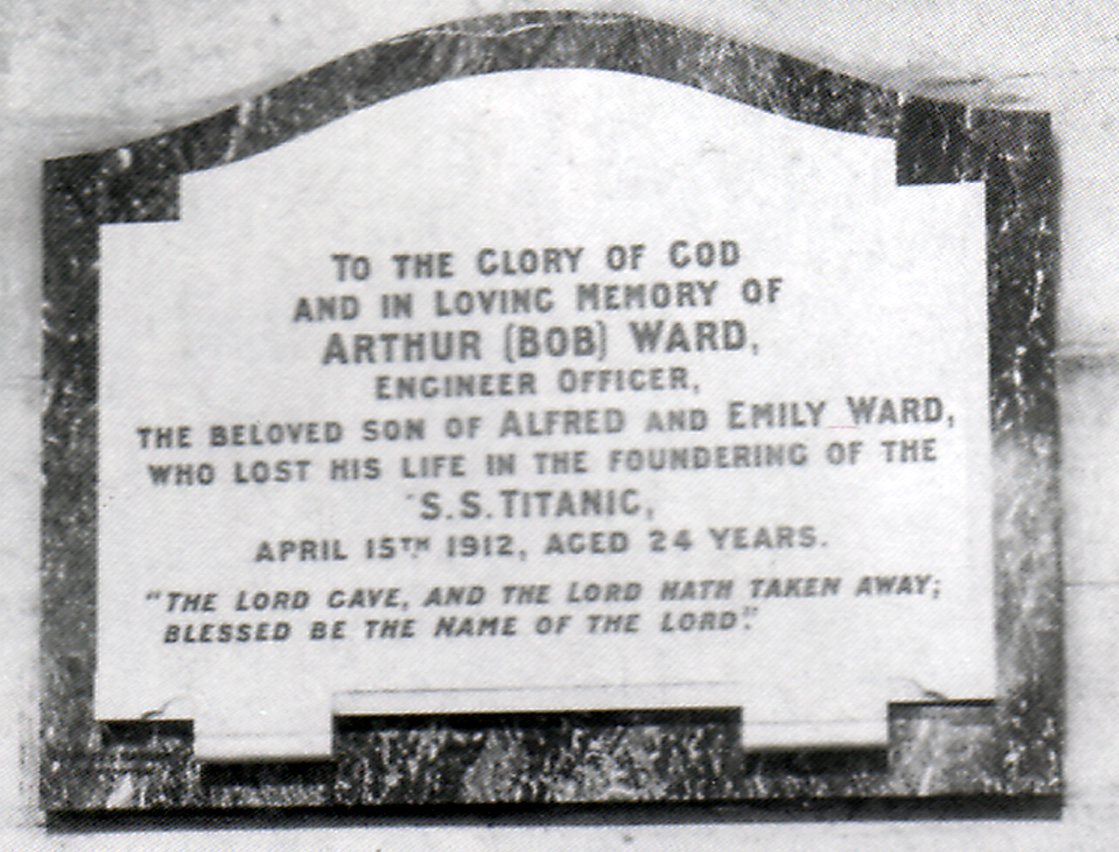 Webmaster 2/2/2005

Looking for information on Frank and Emily Ward, possibly of the Beacon Hill or Bunker Hill area of Boston USA after 1902.
Emily is the sister of Elizabeth (maiden name unknown) or (first name unknown) Ashton.
Elizabeth came from England with her brother Jim and their mother as children.
? Ashton drown during Elizabeth's pregnancy and then Elizabeth died in childbirth leaving two daughters Ann and Lucy.
frank and Emily Ward helped raise Ann and Lucy.
? Ashton's 8 sisters from the Fall River area helped raise the two girls.
Emily Ward may be one of the 8 sisters.
Ann married Luther W. Jones in Fall River, date unknown and Lucy married Lee Cochran, place and date unknown.
The Sears name fits into this Genealogy somehow and were my cousins from the Fall River area.
Mark Jones, markjones_superdad"at"yahoo.com 1/2/2005

Greetings:
Now that I am in the earlier times I am having a problem adding to the following information.
My Great Great Grandfather was Henry Ward born in 1804 and said to be born in Bedfordshire and married to Elizabeth ? born in 1808.
On the 1871 Census they were in Bradwell, Bucks.
Also light on information re my Great Grandfather Samuel Ward born 8th March 1844.
He was married to Ann Stockley (no details) on 2nd June 1863 at St. Martin's in the fields
Any contribution will be gratefully accepted, and if I can be of any help to descendants of the above, please ask.
Regards, Arnold Ward arnold1"at"chariot.net.au 1/2/2005

My name is Anthony (Tony) Ward. I live in Arbroath, Scotland
I am seeking information about the relatives of my father as I begin my family tree.
My father was Arthur Peter Ward born in Leicestershire? On 22/09/22. I
believe he worked in a shoe factory possibly in Bolsover or Market Harborough after leaving school. He was called up for war service in 1944 and was stationed at the Edzell air base in preparation for the landings at St Nazaire later that year.
He spoke of a large family and I believe his sisters were Mary, Faith and Vina two of whom I remember visited us in Edzell when I was very young.
Also he spoke about his brothers but particularly that two including Edgar were killed during WW2.
My father died a few days before his 70th birthday at Montrose in 1992.
Children of Arthur Peter Ward and Helen Pennie:
Peter Charles Ward
Anthony William Ward
Michael Ward
Patricia Helen Ward
June Anne Ward
My Grandfather I believe was William Charles Ward who married Sarah Bassett. They lived at Lansdowne Road Leicester at the time of Arthur's Wedding in Edzell Scotland on 01 April 1944. Grandfather was Collier working in the Leicestershire & Derbyshire coal mines. I have a photograph of Sarah Bassett.
Thanks to the webmaster for this opportunity. Tony.
tward"at"claverhouse.co.uk 1/2/2005

Hi, I'm trying to find Albert Ward on behalf of my uncle, Arthur Ward.
Albert was living in Piercebridge near Darlington, but moved to Darlington about 10-15 years ago, but not too sure!
My father, John William Ward (Big John) died in 1985 aged 45, kept in contact with his half brothers, Arthur, Albert & Dick? (not sure if it was Dick or George)
As well as his brothers who I do have contact with, my nfather was the only brother to keep in touch with his half brothers, so none of my uncles know much about Albert, or Arthur come to that.
Arthur lives in Penarth, South Wales.
Thanks, Chris Ward (Christopher) from York chriselvisward"at"hotmail.com 1/2/2005

Are you looking for anything on FULLER WARD from Rotherham.
Here is an item from a book called Grave Tales from South Yorkshire :-
Rotherham, Boston Cemetery, Children killed in runaway motor tragedy, 1909.
An excellent book by Brian Elliott, 2000, ISBN: 1-871647-70-3
Samuel Houghton (aged five), Laura Steel (six), Doris Braisford (six) and Amy Myers (six) lost their lives on 15 September 1909.
Their grave is quite distinctive and can be seen on the right with one's back to the War Memorial, at the entrance to the cemetery.
Mr. Fuller Ward had brought four tons of bricks from the Midland Iron Company's works at Masborough and was taking them to Middle Lane.
At 4.00pm. he turned his steam-driven lorry and trailer into St Ann's Road.
The total weight of the vehicle was almost nine tons.
The lorry was near the top of the incline when it slipped out of gear and began rolling back.
The children at St Ann's Council School were leaving for home unaware the vehicle was rolling out of control towards them.
The assistant driver, William Hunt, jumped out of the cab and threw bricks under the wheels in a desperate effort to reduce speed but the lorry continued to proceed at about 20mph.
A steam lorry would have been virtually silent and any sound it may have made would have been unnoticed in the chatter and laughter of 300 children dashing out of school unaware of the approaching danger.
A large group of children were clustered at the corner of St Leornard's Road by the entrance gates to St Stephen's Church.
Mr Ward tried to steer the vehicle round the corner into St Leornard's Road in the hope that the rise there would slow it down but the lorry curved wider than he anticipated and crushed some of the infants against the wall and iron railings.
The lives of three little girls and a boy were tragically ended.
They were from working families in the neighbourhood with brothers and sisters and the community was stricken with grief.
A public subscription was initiated by the Mayor of Rotherham, Councillor Mullins, in order to erect a memorial to the children.
They are buried together beneath a stone, which gives details of the tragedy and is surmounted by a statue of an angelic child.
© Photos taken 22/1/2005 by John Ward, Webmaster ©

My grandfather was called George Ward and lived in East Herringthorpe.
He was a steelworker and did mouldings I think. I might find out more about his
ancestry if I have the time.
Jonathan, jonnyinsheffield"at"hotmail.com 10/1/2005

I am desperately trying to get a lead on the Ward side of my family from the Dudley area (Pedmore Road). I have done well with my granfathers side but my Grandmother is proving to be more challenging
My grandmother was
Minnie Ward born Sept 1908
and married George Palmer in Sept 1929
She was the daughter of Albert Ward and Julia Jones both as far as I can work out were born at Round Oak (Dudley West Midlands)
They had two other girls Emma Elizabeth and Mary (who is believed to have married a Ben Bowen).
It is believed that Julia first married Thomas Ward in 1898 (who was Albert's brother) but passed away about 1904/5. Julia and Thomas can be found on the 1901 census with a 2yr old William who I believe married an Elsie - but again unable to trace.
If this is so Thomas's parents were James and Mary living a few doors away also in Pedmore Road.
If any one has information to confirm this link so I can then search further back I would be very grateful.
Many thanks, Carol, crlhgh3"at"yahoo.co.uk 10/1/2005

I have hit a brick wall.
I am trying to find information about my GGF, William Henry WARD.
William was born in Masbrough, Rotherham, circa 1837-1839.
His wife Sarah Elizabeth HARRISON was born in Tipton, Staffs, 1835, daughter of Edward Harrison who was born 1841 in Tipton, Staffs and was found in the 1861 census living at Henley Grove, Kimberworth, Sarah Elizabeth being 26 years old, with her brothers & sisters Emma, Samuel, Theodore, Edward, Benjamin, Thomas & Eliza.
Due to my elusive GGF, I employed the services of a company to help find him.
The result being that he could not be found on the 1861 census.
William and Sarah Elizabeth were found on the following census.
1891 census at 25 Midland Road, Kimberworth.
1881 census at 17 Wortley Road, Kimberworth.
1871 census at 9 New Zealand Yard, Bridgegate.
The only William Ward found on the 1861 census, at the right age of 22, is with his wife Hannah, also 22 who is listed as born in Dronfield
This is ref 3503/49B living at Oil Mill Fold.
I am hoping this is my GGF who may have married again.
Does anyone know this William and Hannah, and is there a possible link????????
I think Hannah's maiden name may be Wigley.
John Ward, ROTHERHAM. ward4ever"at"hotmail.com 2/1/20

My research includes Jim WARD, son of Edward WARD & Jane Emily SCOPES.
Jim was born around 1911? and married someone called Alice.
Family sources say that at sometime, Jim lost either one, or both of his legs and lived in the Dinnington area of Rotherham, UK.
John Ward, ROTHERHAM, ward4ever"at"otmail.com 2/1/2005

My research includes Ethel WARD, daughter of Edward Ward & Jane Emily SCOPES.
Ethel was born around 1911? and married Johnny Marsden.
Family sources say they both lived in the Thrybergh area of Rotherham, UK.
John Ward, ROTHERHAM, ward4ever"at"hotmail.com 2/1/2005

A
USTRALIAN WARD FAMILY.
I'm trying to trace my G G grandmothers family. Ellen Ward came to South Australia in 1847 with parents Thomas and Sarah Ward. I believe she came with the following siblings Thomas (1831-1904), Sarah (1832-1919), Robert (1835-1864), Jane (1834-1899), Hester (1836-1898), Ann(1839-1921). Ellen was born on the 14/1/1841 and died in Nairne SA 2/11/1877. Hester seems to have emigrated then gone back to England to marry a William Fear. They came from Wedmore in Somerset. I would like to know who Thomas's parents were and more about his family. I have the following dates for Thomas, he was baptised in 1808 and died in 1897. I would like to have some more exact dates for all the children as the years are only a calculation on the age at the time of death. Can anyone help?
Jenny Neill jennifer.neill"at"telstra.com 2/1/2005